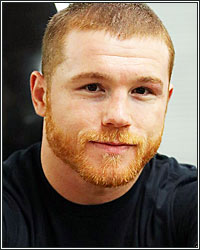 So, Saul "Canelo" Alvarez is officially a promotional free agent. 
His free agency wasn't exactly a tough prediction to make, though, especially after he filed a lawsuit against his promoter, Golden Boy, this past September. But I've been predicting that Alvarez would break free from the Oscar De La Hoya outfit for years already. Actually, he stuck around with GBP way longer than I thought he would.
The truth is that he doesn't need Golden Boy and hasn't needed them for awhile. I suspect that he held off on kicking them to the curb because he simply didn't want to handle all the logistics and legal stuff that comes along with being your own promoter. It was just much easier to let his promoter keep a few bucks for doing all the business stuff. 
But, when Golden Boy started botching that logistics/legal/business stuff– notably with their alleged intentional dishonesty in trying to backdoor a third Gennady Golovkin fight and a total botch in their dealings with Sergiy Derevyanchenko that caused Alvarez to forfeit the IBF middleweight title– it was kind of pointless to keep them around. 
Anyone even remotely knowledgeable about the business side of boxing is well aware of the fact that Golden Boy needed Alvarez way more than Alvarez needed Golden Boy.
Documents made public during Golden Boy's failed antitrust lawsuit against Al Haymon and Haymon Boxing showed just how incredibly reliant GBP was on Alvarez's star power. According to the promotional company's own financials, the Mexican star was far and away their most profitable asset—accounting for 94% of their net income in 2015 and all of their net income through the first half of 2016. One can assume that this trend has continued through the present tense, especially since their $365 million Canelo deal with streaming service DAZN, which they leveraged into a separate deal for themselves to end their broadcast-homelessnes in a post-HBO Boxing world.
The promotional company is in a better place now than they were 3-5 years ago– with young talent like Vergil Ortiz, Jaime Munguia, and Ryan Garcia still under contract and, apparently, their DAZN deal still intact after parting ways with Alvarez. But Garcia, arguably their biggest draw after Alvarez, is trained by Canelo trainer Eddy Reynoso and most definitely in the Canelo Camp. Despite having signed Garcia to a five-year contract extension in 2019, Golden Boy continues to have issues with the 22-year-old fighter and one can easily see that relationship becoming increasingly strained as time goes by. 
Make no mistake, Alvarez is the big winner in this negotiated split. Golden Boy may be able to stay afloat, but the 30-year-old Mexican star will thrive. 
A free agent Alvarez, like Floyd Mayweather, will be in a position to have all revenue streams flow through, first. There's no reason why a fighter who can generate upwards of $100 million a fight on the weight of his own star power should be accepting just a 30% take of the revenue. That's just basic common sense business. 
The DAZN deal ,in Alvarez's reality, was always self-defeating at its core. It put a greater value on fighting lesser opposition at an exaggerated pay rate than facing better opposition at what would amount to a pay cut given the per-fight financial arrangement. Predictably, Alvarez saw this as well and demanded more on top of his guarantee to even consider a third bout with Gennadiy Golovkin– a pay-per-view pairing that generated over $130 million in revenue the first time and over $120 million for the rematch.
As a true free agent, Alvarez could keep at least half the revenue from his efforts and, when it comes to the truly big matchups, take home $60 million-plus rather than about half that amount in DAZN guarantee. Again, it's just basic common sense business.
The big question for fight fans is where Alvarez will end up. 
Rumor has it that he'll be fighting IBF super middleweight champ Caleb Plant in December. If that turns out to be true, taking on a Premier Boxing Champions fighter in his first fight as a free agent would lead one to believe that he may be trying out an arrangement there.
A PBC-Canelo alliance would make sense in a lot of ways. The Al Haymon-led boxing company, with broadcast ties to Fox and Showtime, eschews the traditional promoter-centric business model in the sport and, therefore, allows for a lot more fighter autonomy. Alvarez would be able to make the lion's share of all revenue while paying a relative pittance to one of PBC's preferred promoters to handle the legal logistics…while still remaining a free agent, able to fully explore other options as they pop up. PBC would be happy with the added exposure given to them by Alvarez and could also funnel house fighters to him as opponents for elevated paydays and a chance to "become the man who beat the man." PBC fighters in Alvarez's weight range include middleweight Jermall Charlo as well as super middleweights Caleb Plant and David Benavidez. 
But the truth is that Alvarez can go anywhere he likes and pretty much do anything he wants right now. He's the biggest money draw in boxing at the moment and would probably get a favorable, freedom-friendly deal wherever he goes, even if it's at ESPN or back at DAZN. 
Time will tell where all this goes. But, in an uncertain era where everyone with a checkbook is desperate for a bankable star, the Canelo market should be extremely bullish.
Got something for Magno? Send it here: paulmagno@theboxingtribune.com